Catalogue of the Dutch, Flemish and German Schools, with addenda to the British School. Volume 1
A – N


Ellinoor Bergvelt and Michiel Jonker

2021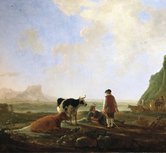 This two-part collection catalogue features the 228 Dutch and Flemish paintings (as well as a few British and German works) from the 16th to the 18th century which form part of the extensive collection at Dulwich Picture Gallery, London. The publication is an expanded, digital version of the catalogue published in 2016.